Case 97006 - Plaintiff
Wallace, ID
Reviewed the failure of multiple steel-framed industrial structures in a mining complex for the cause and course of action. There were several complete and partial roof failures resulting from a severe storm. The goal was an investigation to determine what was salvageable, what needed to be repaired, and what needed to be replaced.
Hawthorne Avenue
Chino Hills, CA
Property owners were frustrated that they were repeatedly patching and repairing cracks in the walls and on the tile floors of their residences. We performed multiple manometer surveys of the floor over a period of time. This allowed us to measure and quantify the locations where there was active settlement. The underperforming footings were underpinned at the fraction of what a full foundation upgrade would have cost.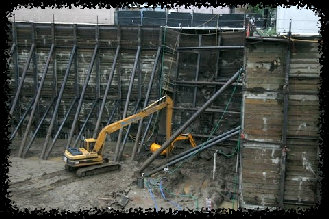 Wilshire Boulevard
Beverly Hills, CA
Philadelphia Insurance Companies
A shoring failure during construction led to this multi-million dollar loss. Since the policy was an all-risk policy, the insurer needed to know the proximate cause of the failure. By piecing together the information provided to us and creating a finite element model of the shoring assembly, we provided the carrier with the cause of loss.
5th Street / Oxnard Boulevard
Oxnard, CA
Schifrin, Gagnon & Dickey
This project involved the repair of a damaged one-story unreinforced masonry wall building. The structure possessed a number of structural elements that were not compliant with the current codes. A closely coordinated effort, greatly assisted by Schifrin, Gagnon & Dickey, led to remedial recommendations and their implementations, that were agreeable to the building department and owner.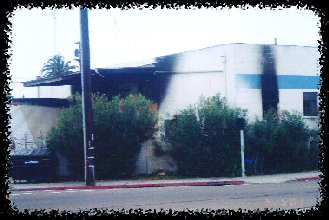 Commercial Street
San Diego, CA
Allied Insurance
The intensity of the fire and temperatures brought into question the salvageability of the masonry walls and the concrete-encased steel beams of the structure. Through material testing and analysis, we isolated the structural elements that needed to be replaced, and we salvaged a majority of the structure. This reduced construction costs and assisted in the speedy recovery of business operations.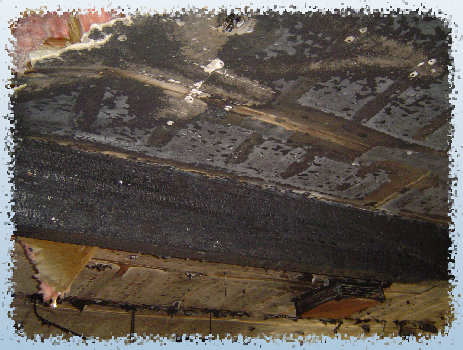 Lomita Boulevard
Lomita, CA
Safeco Insurance
ED Hansen Structures, Inc.
Due to the fire protection of the roof rafters by the gypsum board ceiling lid, the fire did minimal damage to the structure. The char was removed from the girders and we deemed the remaining cross-sections to be adequate for continued use without additional strengthening.
Railroad Street
City of Industry, CA
Safeco Insurance
KB Construction Company
Heavy rain caused a 24 ft. x 24 ft. portion of the roof to collapse. Our team was on site the very next day to determine the damage to structural elements adjacent to the affected area, and to expedite the construction documents necessary to secure the building permit.